Airships, cogs, and corsets! This is a fantasy steampunk retelling of the Snow White fairytale. Princess Snow battles to reclaim her throne with the help of the Seven Dwarves as you've never seen them before
The path to the throne can be a dangerous one …
All of her life, Princess Snow of House White has had to tread carefully. Left the only heir to the throne following the death of her parents, Snow has been raised in the toxic environment of court life. Resisting the attempts of the Pontifex Slie – head of the all-powerful Contratulum – to make her his puppet, Snow is also threatened by the petty jealousy of her aunt, who wishes her dead. As for her stepfather – well, Snow has no illusions about what he desires from her. And then there is Mirage. Her aunt's advisor, she feels his gaze always upon her and fears his intentions.
"He acts as her liaison, her counsellor, and her spymaster. He gathers information for her and seems to know everything that happens, almost before it has come to pass. It appears almost … magical."
Escaping an assassination attempt deep within the Great Forest, Snow is rescued by the mysterious Ronin.
No mere woodsman, Snow learns he is the leader of the last seven survivors of the once proud and powerful race of people called the Dwarvians.
Gathering the seven to discuss if they should offer their aid to Snow, she meets Arden, Kylah, Grein, Fae, Nylex, and Eli.
All blessed with the gift of elemental magic, they may be Snow's only hope of claiming her throne and saving her people from domination by the brutal Contratulum. But the clock is ticking.
"All Dwarvians possess elemental magic to one degree or another. It is a gentle, natural skill. We are so in tune with nature and the elements that we can draw upon its strength and bend them slightly to our will."
With only two weeks remaining before her coronation, how can this small group prevail against the brute force of the Contratulum? Despite the Dwarvians possessing magic and banned airship technology, they will need powerful allies. Realising her old nurse who was sent away when Snow was only ten years old, may possess important information, Snow travels with Ronin and Arden to track her down. On the way, she discovers the truth about her mother's untimely death, and her bitter hatred of the Contratulum grows. Believing herself without friends or power, Snow is stunned to discover there is someone who may help her ascend the throne. Someone who has every reason to despise the Contratulum as much as she does.
"They killed my mother, and then they tried to kill me. They should pay for that. I swear to you both, on the memory of my parents, the Contratulum will pay for their crimes."
Travelling by airship to the Kingdom of House Avis, the bonds between Snow and the Dwarvians deepen as they learn to work together as a team. She is especially drawn to their leader, Ronin. Yet he makes it plain that he considers himself beneath her, that as a princess she is his superior, and as his future queen she is unattainable. Reaching the Avian court of King Falcon, Snow finds it to be very different from that of House White. Believing in equality for all and unafraid of exploring new technology and remarkable sciences, Snow is convinced that these are the friends and allies she has been seeking.
"So, the Contratulum wants to control you, your aunt wants to kill you, and your stepfather wants to bed you. That about it?"
Stunned to discover that House Avis has been gathering information on the Contratulum ever since the death of Snow's father, King Elgin, she and the Dwarvians learn that they have more allies within House White than they originally thought. People who believe in the future Princess Snow offers and are prepared to fight and even die, to place her on the throne and see that future realised. But time is running out and their enemies are closing in on them. When the Contratulum launches their armada of mighty airships Snow realises there is now no other option but an all-out war. A war they must win if she is to free her people from slavery.
"If they manage to break her – make her their puppet –then there will be nothing they cannot do. They will rule the Kingdom of House White through her, and nobody will be safe from their greedy intentions."
Black Ice is a fast-paced and exciting steampunk retelling of the much-loved fairytale, Snow White.
Set in the fantastical world of the Five Kingdoms, it is an epic, heart-stopping tale of loyalty, bravery, and love – beautifully illustrated with over forty pages of drawings.
---
Available in Paperback and eBook
For further information about me and my books, why not follow me on social media,
and for an insight into my daily life, check out my weekly blog "A Little Bit of Blake"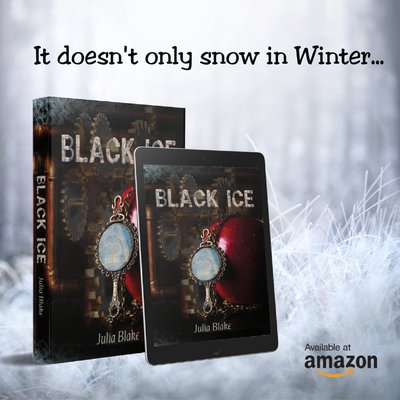 Video