Erinsmore is a wonderful, Narnia inspired, fantasy tale for all ages which will take you on a fantastic adventure in a magical land of sword and sorcery.
Oh, and there are dragons … mustn't forget the dragons…
Teenager Ruby is desperate to escape the tedium of everyday life. Saddled with bickering parents and an estranged older sister, she finds refuge within books and dreams of better things. Then on a disastrous family holiday, Ruby, and her sister Cassie cross through a portal and are lost in a forest of giant trees. Cassie refuses to believe they are no longer in England until they stumble upon the camp of a rugged young man who informs them that he is Prince Colwyn of Erinsmore. With little choice, the sisters are forced to accept his offer of assistance and travel with him and his horse through the sacred forest to the Sanctuary of the Lady Ninianne, the wise and immortal mage. For Erinsmore is no longer a safe place, packs of the mythical savage creatures, Skraeling, are roaming the land and he fears this means the evil mage, Lorcan, has escaped the enchanted chains that have bound him for centuries.
"But we have to go back! You must take us to this crossing place. We have to go home. Our parents, they'll be going frantic with worry."
On their perilous journey to the Sanctuary, Colwyn tells the sisters that he is hoping his mage, Delmar, will be awaiting him there. Delmar set out many months previously to consult with the Lady Ninianne and her familiar, the raven, Cora. Upon reaching it, Colwyn is greatly relieved to find Delmar safe and sound, but he and the Lady Ninianne have dire news for the travellers. Lorcan has indeed escaped and the only hope of stopping him is to reunite the four lost treasures of Erinsmore. Transported by Delmar to the shores of Lake Minwarn – which is inhabited by strange, many tentacled creatures – Colwyn, Delmar, and the sisters, must begin to act as a team if they are to defeat the vicious beast that guards the first treasure. During their adventure, Ruby is fascinated to learn that whenever anyone calls upon their magic in Erinsmore, their eyes glow an intense blue.
"Soon, I will be stronger than before, then nothing will stand in my way and I will crush the house of the dragon lords forever. Erinsmore shall be mine."
Returning to the Sanctuary triumphant after the success of their mission, they are horrified to discover that Lorcan has awoken the Gilmesh – savage, undead skeletal creatures – they are merciless killers and drain the souls from their victims. Magically transported to Dragonswell, the capital city and the home of the Dragon Throne, Cassie and Ruby are plunged headlong into an attack on the castle. During the confusion, they are abruptly whisked away from Erinsmore and returned home, much to their horror. But they haven't returned alone. Caught up in the portal is Garth, man-at-arms to Lord Reutghar, Colwyn's father. Desperate to get back to the land and the people they had begun to care about, Cassie persuades Garth to train them to be the warrior maids of ancient prophecy. As time ticks by though, the sisters begin to despair of ever finding a way to return.
"You must journey to where it all began on the shortest night, bring the sacred sword and be ready at midnight."
Back in Erinsmore, bitter betrayal, danger, and imprisonment await the sisters. The war against Lorcan goes badly and it is more imperative than ever that all four treasures be re-united. It is the only weapon that can possibly stop Lorcan, and the final treasures must be found. But a terrible price will be extracted for the discovery of one of them – and Ruby must be the one to pay it. Even amid heartbreak and despair though, hope and friendship can still be found, and Ruby learns that she is not as powerless as she believed. Meanwhile, Cassie and their friends must fight and never stop fighting, against the evil that is Lorcan and the Gilmesh.
"You have a choice. Agree wholeheartedly to become my queen or I will give her to the Gilmesh. I will order them to make her suffer such torment it will haunt your dreams for eternity."
War is a brutal and bloody business and victory is not always awarded to the just. In the sisters' final quest for the last piece of the puzzle an even higher price will be demanded for its recovery. Yet it is always darkest before dawn, and the glorious conclusion to Erinsmore will reveal a shining hope for all and a truth that is more magnificent than any could ever have believed. Finally, the last verse of the prophecy is explained.
Two shall fight for freedom
Defend the dragon throne
Two shall walk the dark path
And one return alone…
---
Available in Paperback and eBook
For further information about me and my books, why not follow me on social media,
and for an insight into my daily life, check out my weekly blog "A Little Bit of Blake"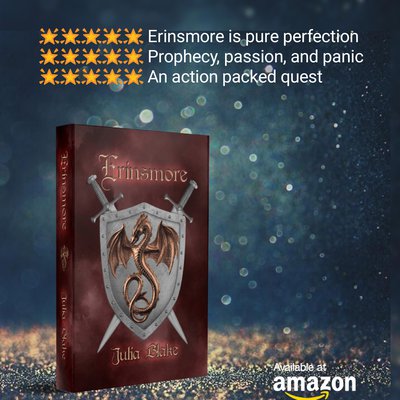 Video