Kiss & Tell is book four of The Blackwood Family Saga and is a fun and fast-paced romantic suspense that tells of the eccentric Blackwood Family and their turbulent path to true love.
Sometimes, you must decide whether to listen to your head or trust your heart
It was the perfect Italian summer romance in a sleepy little coastal town and when 17-year-old Isabella Santorini fell in love with the 19-year-old boy, Nick Eastman, she thought it was forever. Together, they loved with the passion and intensity of youth, but it was an affair that had to remain secret. Born into a wealthy and influential Italian family, there are certain expectations for Isabella that do not include a penniless American boy with no connections or family. Isabella defies those conventions and gives Nick the promise of her heart for all eternity, sealing their pledge by accepting the locket he buys for her. But fate has other plans for them and one night they are cruelly ripped apart, never to meet again – or so Isabella thinks.
"We go together like meatballs and spaghetti…"
Eleven years later, Nick walks back into her life expecting them to pick up where they left off. But can Isabella trust him or his vows of love? Her boss – the mysterious and all-powerful, Sebastian – says no. He even gives Isabella intel on the man Nick has become that warns her of the risks of trusting Nick again. Even Isabella's head tells her it's a bad idea. But Isabella's heart desperately wants to believe that the boy she once loved is still somewhere inside the dangerous and secretive man that Nick has become, refusing to believe that he is lost to all decency and moral integrity. But each lie that Nick tells her makes it harder and harder for Isabella to justify her need to believe in him and the love he claims to offer.
"I know because I love you, Isabella. I always have and I always will. And I know after last night, that you still love me too. It doesn't matter how sensible or not it may be, fate brought us back together after so many years – and that cannot be a coincidence."
There is no doubt that Nick has changed, but so has Isabella. No longer the innocent and naïve teenager who loved wholeheartedly and unconditionally, Isabella is now a strong and independent woman who knows that all love comes with a price tag. But is it one she is willing to pay? A fast-paced and exciting story, it sweeps the reader from the streets of London to the harsh landscape of Afghanistan and the back alleys and marketplaces of Kandahar, and Isabella must fight for her life all the time unsure of who – or even what – Nick Eastman is. And all the time, the secrets from Nick's past are creeping ever closer. Dangerous secrets that threaten death, or even worse.
"Don't cry for me. I'm not worth crying for."
Kiss & Tell is a heart-stopping, pulse-racing read of love, treachery, and betrayal, and the battle between the head and the heart – when death is the consequence of a wrong decision.
---
Available in Paperback and eBook
For further information about me and my books, why not follow me on social media,
and for an insight into my daily life, check out my weekly blog "A Little Bit of Blake"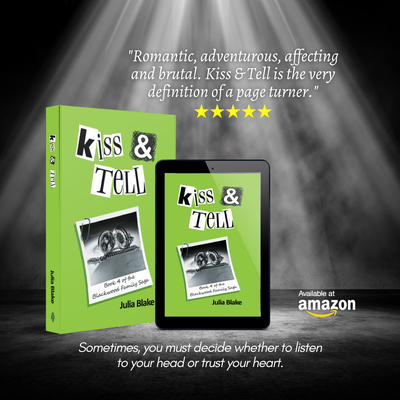 Video