The wonderful and heart-warming conclusion to the epic Perennials Trilogy, Rambling Rose will thrill and satisfy fans of the series
Having escaped one gilded cage, should Rose risk another?
Trapped in a loveless marriage by a controlling husband, Rose has endured for the sake of her daughter. Suddenly cut adrift when Paul admits to an affair and forces Rose and Jessica to move out of the family home, Rose must build a new life for herself and Jessica. Shocked by the way Rose has been treated, Lili and the group rally round with support and help – and Tom offers them the use of the tiny Sycamore Cottage, rent free, until they are back on their feet.
"She's tougher than you give her credit for. You'll see, she'll cope because she has no other choice."
Happy that he was able to help, as Rose and Jessica settle into Sycamore Cottage and become his neighbours, Tom realises the mild attraction he feels for Rose is developing into something more serious. But Rose has been burnt by one man and Tom knows she won't risk her heart again so soon, if ever. Accepting his role in their lives as a much-valued friend, Tom resigns himself to wait. Used to a pampered existence, Rose's daughter Jessica struggles to come to terms with their much simpler life. And Rose herself is the subject of gossip and speculation as news of her fall from grace spreads.
"Oh, you're that Rose!"
Meanwhile, tragedy awaits to devastate the life of one of Lili's tribe and have far-reaching consequences for another member of her found family. Once again, the group must work together to help with an increasingly difficult and heart-breaking situation, as depression bites hard and tempers fray. With the burden placed squarely on the shoulders of Amy, she is unwilling to admit to the others just how bad things are – but sooner or later a breaking point must be reached. The question is, will Amy survive the fallout when the explosion comes.
"I hate you! Get out of my house!"
As the year draws to a close, there is everything to play for and hearts are gambled and lost. Can a frightened and reluctant Rose be persuaded to risk everything for love again? Her newly found independence has been hard won, surely she would be foolish to give it up. Can a shattered life be put back together into something stronger than it was? Can friendship – no matter how strong – be truly enough to weather all storms? And can life throw one more cruel twist of fate at Lili and her friends?
"You'll always be my crazy gang who would dance the night away and drink the bar dry of vodka."
Drawing the threads of this exquisite trilogy together, Rambling Rose is volume three of the story of Lili and her found family, and the saga's stunning conclusion will delight the many fans of this powerful tale of life in all its awful splendour.
---
Available in Paperback and eBook
For further information about me and my books, why not follow me on social media,
and for an insight into my daily life, check out my weekly blog "A Little Bit of Blake"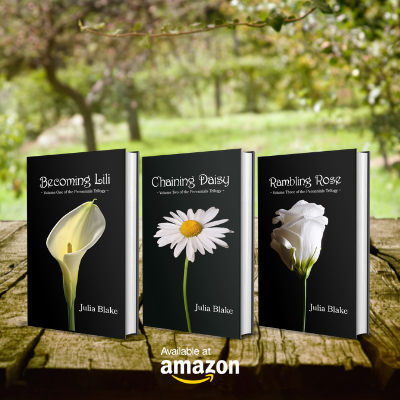 Video