Sugar & Spice is book three of The Blackwood Family Saga and is a fun and fast-paced romantic suspense that tells of the eccentric Blackwood Family and their turbulent path to true love.
Sometimes, no matter how fast or far you run, you cannot escape fate
Kind and sweet Susannah Blackwood – the younger sister of Luke, of Lost & Found – is happy with her little life. Shattered since her divorce two years earlier, she has built a new world for herself. Living in the tiny flat above her beloved, quirky bookshop with her cat, she enjoys spending time with her wonderful family and newly acquired nieces and nephews. Yes, it might be a small life, but she is contented enough. Isn't she? Then Susannah happens to be in the wrong place at the wrong time and is the victim of a violent mugging. Saved by one of Luke's agents, James Sullivan, they believe it is over – an unpleasant experience to try and forget.
"Is there anything else you can tell me? Anything you noticed about this man? It could be something tiny, something you think is insignificant, but anything might be the key to catching this man. Think. Something about his voice, body odour, anything you can remember could be important."
But something about Susannah has sparked her attacker's attention. He contacts her, and they realise that he is the infamous killer who has been murdering young, blonde women and dumping their bodies on Hampstead Heath with a black feather clutched in their hand. He has promised Susannah she will be his, that her death will be exquisite, and Susannah has no choice but to leave everything she loves behind her and run – and never stop running. Sullivan volunteers to go with her to protect her, and Susannah places her life into the hands of this gentle giant who likes his life to be spiced with danger. He is an unlikely hero, but he cares for Susannah and will do anything to keep her safe.
"No, I'm not trusting the police again. I'm telling you, man, he found us too quickly. There's no way he should have tracked us down that fast. No, I'm not implying anything, all I'm saying is we can't afford to risk it."
The tension then rises as Susannah and Sullivan race from one safe house to another. But the killer is always just one step behind and seems to have an uncanny knowledge of their next move. Sullivan must use all his skills to keep them safe as the killer pursues them from the back alleys and underground clubs of London to the wilds of the Scottish Highlands. Susannah despairs there will ever be an end to the hunt, yet even in the middle of the most heart-stopping terror, the most heart-aching sweetness can be found. But the killer is determined and, in a pulse-thumping conclusion, Sullivan and Susannah will discover that sugar and spice are an explosive combination.
"That was how I knew you were different from the others, special. That you had been placed in my path for a reason. And then when I was in your home, looking at the items you'd chosen to surround yourself with, touching what was important to you, it was like I could feel your soul calling to me."
Sugar & Spice is a breathlessly fast-paced read that will thrill and enthral from the very first taste to the very last bite
---
Available in Paperback and eBook
For further information about me and my books, why not follow me on social media,
and for an insight into my daily life, check out my weekly blog "A Little Bit of Blake"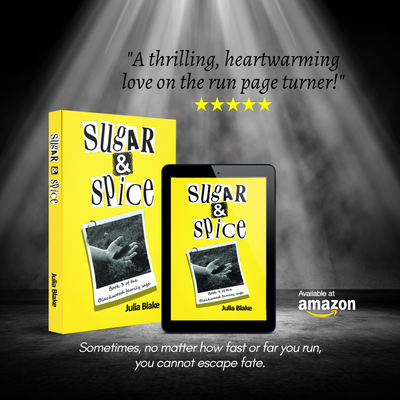 Video