Pitch & Pace is book five of The Blackwood Family Saga and is a fun and fast-paced romantic suspense that tells of the eccentric Blackwood Family and their turbulent path to find true love.
Sometimes, the rhythm of your life must change so your heart can beat to a new tune.
Achieving international status as a talented singer with a dazzling career before her, Kit Blackwood's passion is the exclusive and glamorous world of opera. But then illness tragically strikes, and Kit is told that never again will her voice swoop to hit the high notes. Naturally, the rest of the Blackwood clan gather around offering love and support, not understanding the depth of Kit's bereavement. Devastated and unsure what to do with her life, Kit seeks refuge in the family-owned cottage in the tiny village of Luffdale on the Yorkshire Moors. With its happy memories of family holidays, Kit hopes time alone will bring clarity. It also allows her to reconnect with her childhood friends, Claire – who runs the village pub; Mark – who is now Claire's husband; and Jason – the local vet, who took over the practice when his father died.
"That annoying little squirt is now a Detective Inspector in the North Yorkshire and Cleveland Major Investigation Team and my husband."
Accidentally knocking down a large stray dog on arriving at the village, Kit takes the mutt to her old friend and first love, Jason. Discovering he is no longer the puny boy he used to be but has grown into a confident and handsome man – one who makes it clear he's not averse to picking up where they left off – Kit wonders if rekindling old flames is ever a good idea. Shocked when Jason tells her of the recent brutal murders of two local women, suddenly Kit's haven doesn't feel so safe.
"There's been two murders around here. Two young women, about your age, found dumped on the moors, raped, and with their eyes gouged out."
When no one claims the injured dog, Kit adopts him, and Wolfgang soon shows his undying love for his new mistress. As the days slip by, Kit relaxes into the slower rhythm of life in the village and even picks up her guitar for the first time since the surgery. She meets her neighbour, Adam, who is renting the holiday cottage next door to Kit's, and quickly becomes close to the tall and handsome American. But can Kit trust him? And what secrets is Adam keeping from her? A talented musician, Adam encourages Kit to explore the voice that surgery has left her with. True, she will never sing opera again, but could Kit succeed in a different musical genre? Together they make sweet music and with Adam, Kit almost forgets about the hunter stalking the moors – until he strikes close to home and suddenly it's Kit's life that is on the line.
"I've been watching you since you came back. I've watched you walk on the moors with that big dog of yours."
Pitch & Pace will set your pulse throbbing to the rhythm of a dangerous passion that will not be denied.
---
Available in Paperback and eBook
For further information about me and my books, why not follow me on social media,
and for an insight into my daily life, check out my weekly blog "A Little Bit of Blake"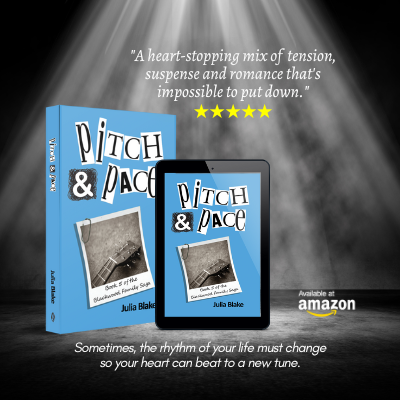 Video